By Charles Crawford
The adage of "location, location, location" has never applied more to the data center industry as it does in the post-pandemic new normal. Everyone has experienced unprecedented times in the past year, and every industry has been forced to pivot as weddings moved to virtual gatherings, families relied on streaming content for entertainment, and even furniture shopping moved to an augmented reality experience. The acceleration of digitization that resulted from the pandemic has translated into a demand for key mission critical infrastructure to support hyperscale and edge facilities alike. 1623 Farnam, located in Omaha, Nebraska, the center of both the north/south and east/west cable routes, announced a $40 million edge data center expansion in June 2020 to keep up with the predicted year-over-year growth rate of 8.93% in the global edge data center market by the end of 2023, as reported by MarketWatch.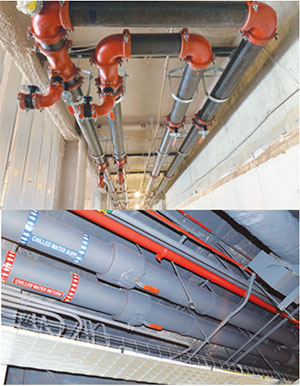 The 1623 Farnam facility upgrades increase the gross square feet available to 75,000, including eight data center floors with 5,400 square feet total "white" data center space per floor, both chilled water and air cooling options, and eight megawatts (MW) of power on a uniquely redundant power grid. Originally a commercial office building, the transformation of 1623 Farnam to the first multitenant data center in downtown Omaha and the expansions since to increase supply are indicative of the increased use of repurposed properties in advantageous locations. The circumstances are akin to the current residential market, where buyers are choosing "location, location, location" with plans to renovate and update old HVAC systems to support modern needs. However, the ensuing design considerations that need to take place are compounded in a nine-story high-rise when mission critical services must be maintained in an active construction site, there are space constraints and system reliability is paramount.
Edge Expansion Design Considerations: Maintaining White Space

"From my experience retrofitting live data centers, owners worry about smoke and metal shavings, which is a big no-no, and 1623 Farnam was no different," said Pete Anderson, Project Foreman for Hayes Mechanical when asked about the requirements of upgrading active data centers. "We love to put the hood down, and we love to weld, but on a data center project where there's active white space, the grooved [pipe joining] solution makes sense to cut down on the risks of sparks and debris."
The decision to use grooved mechanical systems on the 1623 Farnam project was made because it completely eliminated hot works and the fumes inherent to welding pipe within the existing confines of an office structure. "IT employees were able to traverse spaces with piping being installed without fear of welding fumes, flash burn from arc light, heat and encroaching on the workspace of pipe fitters" commented Todd Cushing, President of 1623 Farnam, LLC.
Making Do With Minimal Space
Space constraints from the mechanical room all the way up to the penthouse presented additional challenges when designing and installing the new chilled water systems. The system also included multiple risers serving a loop design on each floor. Fortunately, 1623 Farnam kept to their tight construction schedule while including the redundancy necessary for mission critical facilities.
"The thing about the shaft on this job is that it was full of duct work and the current chilled water system that was supporting the operational data floors, limiting us to about half the space we typically see on a new job," Anderson pointed out. Hayes Mechanical and the HED Dallas engineering office worked together to ensure installation within these tight spaces was both easy and reliable. "The great thing about utilizing grooved couplings was the ease of cutting the lengths of pipe into smaller pieces without the worry of adding welding time; it allowed for more mobility on the job site by fitting 10-foot sticks in the existing elevators. The fact we were able to cut a piece down, add just a coupling, and be able to get done what we needed to do efficiently, was the adaptability we needed for this retrofit," Anderson continued.
A Reliability Is Key For Data Center Operations
Cooling system reliability is pertinent in mission critical applications since it is indispensable to continuing operations. Grooved mechanical joints have been used on essential and life-safety projects since 1919, and the new ability to visually verify proper installation of these couplings offers a reliable solution for modern critical retrofit applications. "Accepted use of Victaulic grooved couplings on piping systems in hospitals and particularly hospital renovation/addition projects, a life-critical application, was a good testament to the reliability that would be required in mission critical grade joints," commented Martin Herbert, Mechanical Mission Critical Lead of HED.
Along with system connections, HED optimized system reliability for 1623 Farnam by evaluating its shut-off capabilities. The design team opted to use a butterfly valve with an offset disc, a feature commonly seen in high-performance valves, which provides zero leakage in the closed position, compared to other valves with stagnant open positioning. The off-set disc design does not impart compression on the elastomeric seal in the open position and therefore creates a 360-degree compression seal when shut-off is necessary. This eliminates the common concern of leakage across the disc of a traditional butterfly valve in service for many years when system service or expansion is needed.
Adaptability Is Necessary When Location Is Priority
Another design challenge was bringing individual floors online in a phased approach, which meant HED needed to balance the chilled water system in response. Differential pressure (DP) balancing valves provided a constant flow of chilled water to each computer room air handler (CRAH), while isolating the impact of pressure variables caused by additional pumps, CRAHs and district cooling supply variations on the delivery of the chilled water. The DP valves damped pressure variations to ensure consistent operation of the CRAHs. They are also key to handling variations since liquid cooling to the racks may become necessary in the future. The use of mission critical grade grooved mechanical couplings and valves means the piping can be reconfigured in the future to provide more chilled water directly to the IT equipment as computing densities increase.
To keep up with the speed and dependability needs of data center tenants, the industry is demanding the infrastructure to support more edge data center locations, which are often retrofitted structures due to location. More retrofit opportunities exist when the final engineered solution can be installed in facilities that require shorter pipe spools, fit larger risers in tighter spaces, and can easily align pipe to equipment interfaces. These design considerations must be accounted for in the pre-planning phase of the project to minimize downtime, and in turn, lost tenants and revenue.
Charles Crawford is Engineering Business Development Manager at Victaulic. He can be reached at Charles.Crawford@victaulic.com.