Meet a Member – Mary Glynn
Executive Vice President of Business Development
TLM Group, LLC.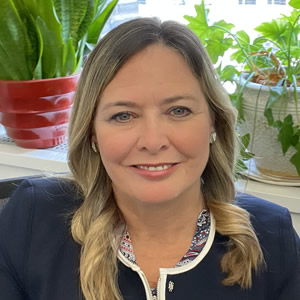 Mary Glynn is the Executive Vice President of Business Development for TLM Group, a data center-focused Owner's Representative firm based in New York City. TLM provides due diligence, site selection, project management, budget reporting and tracking, scheduling, commissioning, and support services. TLM Group has been in the data center industry for over 22 years and has managed large scale projects internationally.
Mary has been with TLM Group for over a decade and has seen the company reach many data center construction milestones: over 300 projects completed in 23 states, 11 countries, 7+ million square feet of white space and 3+ Gigawatts of power. Mary has been building relationships with key players across the data center industry, with end users and other industry leaders. She has nurtured strategic collaborations with industry partners and has implemented ideas and initiatives that help grow TLM Group's outreach and continued success into the future.
Working with Irish government agencies such as Enterprise Ireland and IDA, Mary helped to establish TLM Group's Irish office. With business planning, maintaining relationships, and keeping apprised of current state of the overall industry and growth projections. Mary is constantly on the lookout for new and unexplored market opportunities and new business sectors eligible for continued expansion. TLM Group continues to be on the front lines of new technologies and looks forward managing what is next in the data center world.
How Mary got involved in the Mission Critical Industry and Inspirations
Mary's venture into the mission critical industry started when she joined TLM Group in 2010. TLM Group was already an established leader in the mission critical world. In 2010, as many industries were beginning to reemerge after the severe downturn of 2008, the need for mission critical infrastructure expanded exponentially and there is no end in sight. Her extensive relationships in the real estate construction industry in New York enabled her to bring a wider awareness to TLM Group.
Mary is a people person; she loves to meet new people and make lasting relationships. TLM Group also provides the opportunity to contribute to charities and organizations that are making a difference locally as well as globally. Mary is a Board Member of Rewired For Autism as well as the Irish American Building Society. IABS raises money for educational purposes throughout New York City serving the underprivileged. Mary is an avid golfer and is often collaborating with industry colleagues to raise funds for charitable endeavors through golf outings. During the onset of the Pandemic, Mary's efforts with Catholic Charities of Brooklyn and Queens set up "pop up" food pantries to help those in need.
Participation in 7×24 Exchange International
TLM Group has been involved in the 7×24 Exchange for many years. When Mary started with TLM, involvement in 7×24 Exchange was highly encouraged and led Mary to many opportunities to make valuable contributions and help fulfill her professional career goals. Getting involved with 7×24 Exchange has benefitted Mary in many ways including networking, developing lasting personal and professional relationships, and also providing an opportunity to mentor young professionals through the local New York Metro Chapter University Challenge.
The 7×24 Exchange conferences and events help Mary gain knowledge about the latest and greatest developments in the data center industry. Mary is grateful to have the opportunity to work on the 7×24 Exchange International WiMCO committee with a dedicated, accomplished committee of women.
She has also been working to establish the Metro NY WiMCO community and has achieved much interest from other strong professional women in the industry. The first WIMCO event for 2022 is currently in the planning stages and is anticipated to be well attended. Mary is looking forward to an exciting year and building WiMCO Metro NY to add value to the Chapter.
Additionally, Mary has been involved with the Education Committee for the Metro NY Chapter and has worked on The University Challenge for the past several years. Most recently Mary has worked on establishing a 7×24 Exchange Student Chapter and is happy to report that Manhattan College in the Bronx has kicked off their 7×24 Exchange Chapter with a very successful first meeting in early November 2021. Mary is looking forward to a successful University Challenge in 2022 with the Manhattan College contingent, Go JASPERS!
"Getting involved with 7×24 Exchange benefits me in many ways including, networking, developing lasting personal and professional relationships and also providing an opportunity to mentor young professionals…"
-Mary Glynn